Contemporary artworks created by British artist John Akomfrah, Singaporean artist Ho Tzu Nyen, U.S. visual artist Rachel Rose and Chinese artists Yang Fudong, Zheng Guogu, Chu Bingchao, Duan Jianyu, Fang Di, Gong Jian and Birdhead are on display at the "Muses, Yugong and Compasses" exhibition at the Pingshan Art Museum.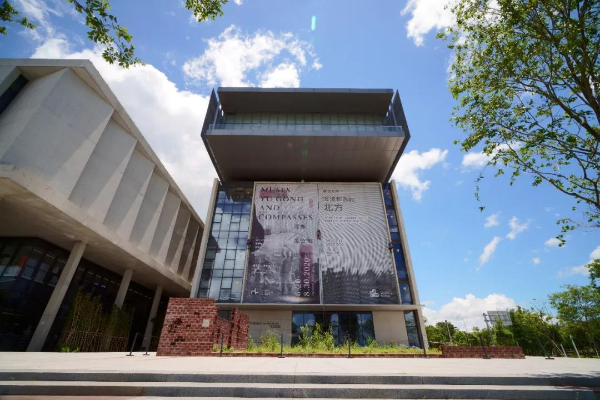 Photos courtesy of Pingshan Art Museum
"In the 2010 film of 'Mnemosyne,' Akomfrah composes a 'sad song' about migration and travel, memory and mourning, knowledge and identity, nature and politics, following the poetic path laid out by Dante, Samuel Beckett, Emily Dickinson, James Joyce, John Milton, Friedrich Nietzsche, William Shakespeare, Sophocles and Dylan Thomas," curator Lu Mingjun writes in the exhibition profile.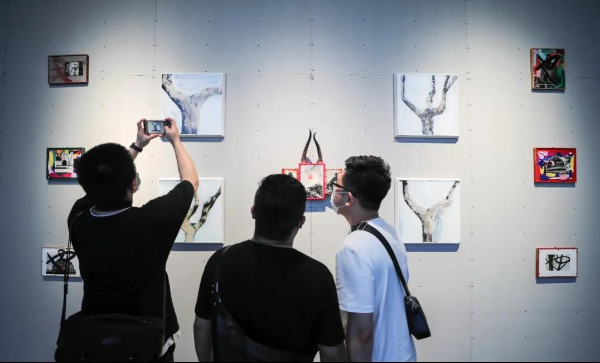 Visitors at the exhibition at the Pingshan Art Museum.
"Coincidentally, Ho epitomizes a similar grief in his gripping epic, 'The Cloud of Unknowing.' Inspired by 'A Theory of Cloud: Toward a History of Painting' written by art historian Hubert Damisch, Ho takes classic artworks of Caravaggio, Zurbaran, Correggio, Bernini, Mantegna, Rene Magritte and others as the blueprint, depicting the protagonist in each section as clouds, boundless and flexible, yet interwoven with love and hatred, good and evil, as well as other absurd, bizarre and compelling emotions and experiences," Lu writes.
According to the curator, the exhibition continues the epic along their imaginative and narrative paths, where visitors can admire Akomfrah's "Mnemosyne," Ho's "The Cloud of Unknowing," Gong's "Muse," Fang's "Minister," Yang's "Moving Mountains," Chu's "The Hill of Qifu," Zheng's "Planting Geese and Pig Controlling Computer," Duan's "Horse," Rose's "Wil-o-Wisp" and Birdhead's "Passions Bloom Ambitions" and "Phototheism."
Dates: Until Aug. 30, closed Mondays
Hours: 9 a.m.-noon, 2-4:30 p.m.
Booking: Follow WeChat account "PingshanArtMuseum" and then follow its menu instructions
Venue: Pingshan Art Museum, Huide Road, Pingshan District (坪山区汇德路坪山美术馆)
Transport: Take the high-speed rail from Futian Station or Shenzhen North Station to Pingshan Station and then take a taxi